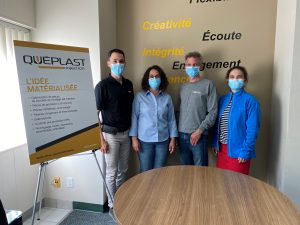 The Plastiques Gagnon company of St-Jean-Port-Joli, acquired Quéplast Injection in March 2021. The latter, born of a partnership with Plastiques Gagnon in 1997, is located in St-Romuald and operates also in the manufacture of plastic parts by injection. The integration of Quéplast Injection into the Plastiques Gagnon family was natural because the two companies share the same values ​​and the same standards of quality and service.
This acquisition propels Plastiques Gagnon to the first rank of Quebec producers of small and medium tonnage injection parts with 56 presses from 20 to 720 tonnes. The company will now be able to count on an experienced team of more than 230 employees. Thanks to this expansion, it is entering new markets including electronics and the medical sector. Quéplast Injection has an ISO class 7 clean room and specializes in the manufacture of small-dimension parts by micro-injection process respecting dimensional tolerances of +/- 9 microns.
The main objective of this first acquisition is to increase production capacity, an important issue in Plastiques Gagnon's growth plan. The Quéplast Injection plant is considerably increasing its production capacity, while maintaining the unparalleled quality of its service to current customers. Indeed, its production area is doubled and 6 new injection presses are added. The location of the plant in St-Romuald also allows Plastiques Gagnon to have access to a larger labor pool.